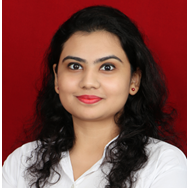 Name: Himani Prajapati
Role: Graduate Research Assistant
1) Where are you from and where do you study?
I am from Ahmedabad, India. I am doing PhD in Rehabilitation Sciences at The University of British Columbia.
2) What motivates you to make the world more accessible?
My background in Physiotherapy have always been inspiration for me to understand what accessibility means and finding the ways in which accessibility could be encourage. I feel it is very important topic to consider because improving accessibility motivates people to get more involved in the work or activity they do, thus enhances the participation.
3) In a short and simple language, describe your research project or the project you are working on.
Currently I am working on Transportation facilities/barriers in airlines for people with disabilities.
4) What is your hidden talent and greatest quality?
My hidden talent is drawing although since a long time I have ever drawn anything.
5) What is the best way to make you smile?
Listening Music!
6) What do you like to do in your free time?
I like to take walk surrounded by nature! I also like to play badminton during my free time.

7) What place in the world do you dream of visiting?
There are so many, but visiting Germany is my dream.
8) What's the best book you've read or movie you've seen that inspired you?
Movie – Theory of Everything
9) If you could have dinner with a known researcher/scientist/clinician/person who would it be and why ?
I would like to have dinner with : author Deepak Chopra. He advocates on alternative medicine and ways to take care of psychological health.