MAP-SWAN-SFU
Reflection – Dementia Data Collection
Author: Aislynn Sharrock
Introduction
This article describes my experience working as an undergraduate research assistant on the research project entitled "The Stakeholder's Walkability/Wheelability Audit in Neighbourhoods (SWAN)", led by Dr. Atiya Mahmood, at the Gerontology Department, Simon Fraser University. The SWAN project aims to empower people with various disabilities to advocate for inclusive communities and neighborhoods through using the SWAN tool. The SWAN tool facilitates participant-led evaluations of select streets and intersections by people with varying disabilities, including cognitive, mobility, hearing, and vision disabilities. The current version of the SWAN tool has been adapted for individuals with dementia or mild cognitive impairment (MCI) with the help of stakeholders (such as the Alzheimer Society of BC and Disability Foundation), advisory committee members, and people with lived experiences of dementia and MCI. Research data was collected with participants by completing a survey of the streets to explore barriers and facilitators to accessibility. This was followed by a brief interview to obtain information about the overall experiences of each participant.
Before starting recruitment for the dementia and MCI stream, we completed a pilot data collection session with a participant from the community to identify any potential issues that needed to be resolved. This participant agreed to have a follow-up interview with me (AS) to discuss their experience with our project, including working with the research assistants, as well as their opinions and reflections about anything that could be improved for future research projects involving participants with dementia and MCI. This participant had a previous relationship with the lead research assistant for the dementia group, Kishore Seetharaman, a graduate research assistant on the team with extensive experience working with people with cognitive disabilities. This facilitated the participant's understanding of the research project. By conducting this follow-up interview, we hoped to uphold our commitment to a community-based participatory approach. This article includes reflections and feedback from our pilot participant as well as my personal reflections as an undergraduate research assistant, who was closely involved in data collections with the dementia population.
Personal Reflections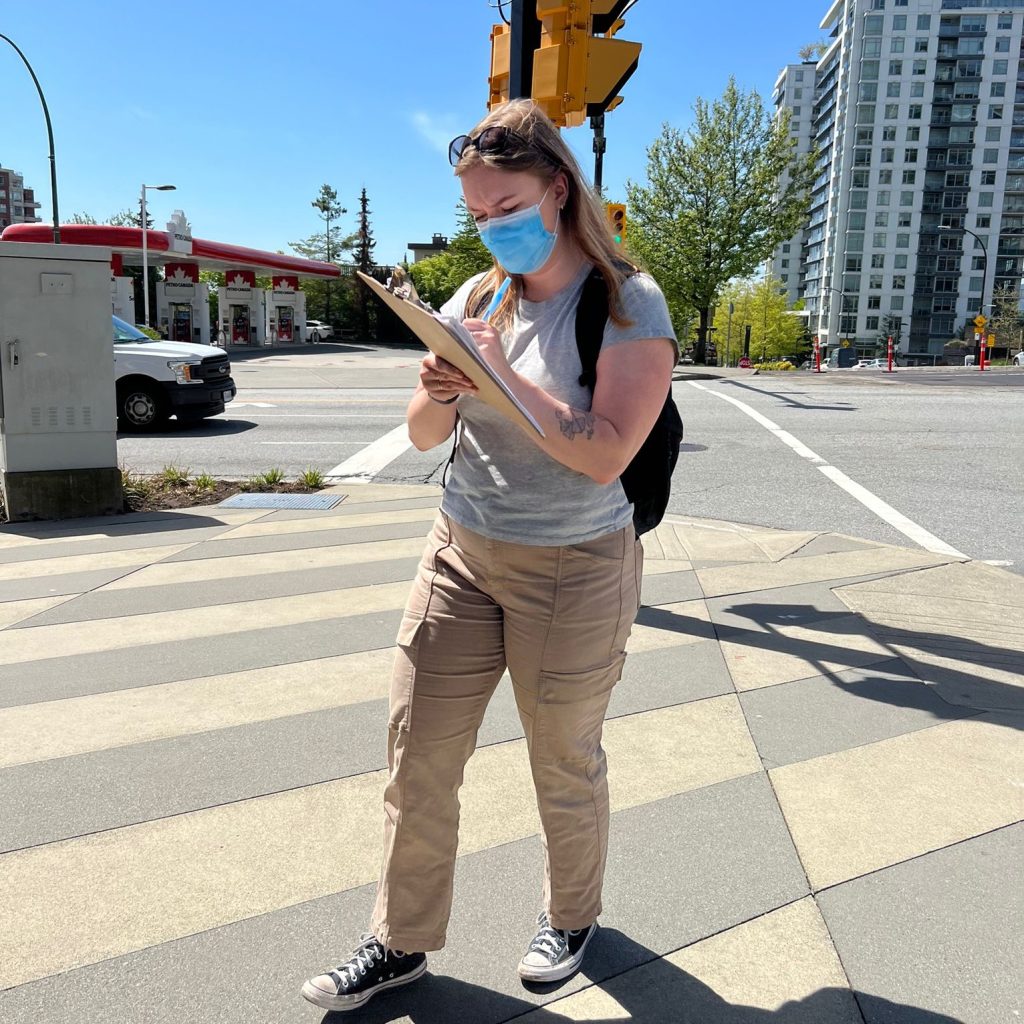 It was my first time conducting data collection out in the field with dementia and MCI participants using the SWAN tool. I started out by taking photos of features in the built environment that were emphasized by the participant. In addition, I completed the SWAN tool through my perception of how the environment would impact people with dementia and MCI. This was completed as a way to validate the SWAN tool. All research assistants, including myself, were trained on how to work with people with various disabilities in different contexts and situations. Yet, I recognized that working with individuals with varying cognitive disabilities could require flexibility and exercising judgement on my part depending on their cognitive capabilities. My previous experience with seniors as a recreational worker at an Adult Day Program (ADP) made me realize how much I enjoyed spending time with them and listening to their stories and experiences.
Even though I was somewhat nervous to do data collection in the community, particularly in neighbourhoods that were unfamiliar to me, I was thrilled to gain experience in this unique context. Our team tried to implement specific arrangements to better accommodate participants with dementia and MCI as we wanted to make their experience as smooth as possible throughout the entire process. For instance, phone or email reminders prior to the day of data collection were often addressed to the participant's primary caretaker, since participants often required a caretaker to support them with daily tasks. In addition, we attempted to simplify data collection with our participants by omitting questions that the research assistants could answer beforehand, such as answering questions that asked if certain features of the built environment were present or not. Additionally, there were subtle differences in the way questions would be worded to this subgroup of participants, such as refraining from starting a question with, "Do you remember…?", and instead saying something like, "At the previous segment we walked, we encountered these issues with the crosswalk; do you notice those issues here as well?"
Furthermore, we modified our protocol for participants with dementia and MCI by asking them to choose the location for data collection. This was different that our previous method of selecting pre-determined intersections in a municipality the participant was familiar with. The other method involved picking busy intersections that stakeholders and people with lived experiences report need assessing because there are several issues with the built environment for people with varying disabilities. Upon reflection, it may have been useful to help the participants with dementia and MCI choose one intersection that had more accessibility issues to make better use of all the questions in the SWAN tool.
Moreover, in retrospect, I recall that many of our participants in this stream were accompanied by their primary caretakers, often their partners. While our data collection protocol emphasized that the answers should be directly provided by the participants to capture their point of view, we noticed that the participants would sometimes look to their caregivers for additional information. Some caregivers readily filled in when they noticed the participant unsure of an answer to a question, while others tried to probe the participant to recall the information themselves. It was evident that caregivers were familiar with the participants' routines and were able to provide our research team with insightful answers, especially during the brief interview we conducted with the participant after walking the segments. In many cases, our participant's caregivers were also their lifelong partners and therefore, were able to recount the participant's experiences. Therefore, having only the participant answer seemed to not always be applicable for the dementia and MCI group.
Participant Reflection
Following the completion of data collection with the dementia and MCI participants, I was interested in the participant's experience with data collection. Through this, I scheduled a one-on-one interview with one of our participants. The participant supported the change to our protocol that allowed participants with dementia and MCI to choose the neighbourhood for data collection rather than meeting at a pre-determined intersection that was less familiar to them:
"You have no history there so you can't say 'Well this is what I've experienced with this' or… 'You really have to watch out for this.' Whereas, if you're at a strange block [unfamiliar intersection] you're so focused on where you're walking and noticing a trip hazard, that you're not necessarily seeing what else is around you to comment on."
Our approach to site selection also meant that some of the intersections chosen by the participants were without traffic lights, amenities, or pedestrian signaled crosswalks, as those were often familiar residential streets close to their homes. Additionally, the participant was surprised that the length of the assessment was not longer, and they felt that it may not fully address the accessibility issues they encounter in their community. The participant shared that they would have preferred to walk further in their neighbourhood to capture more data. Reflecting on this, we could have given our dementia participants the added option of walking to other intersections in their neighbourhood that would be of interest so that they could highlight additional issues that they would like to communicate to us. The participant believed that much of the process of data collection was already decided upon before meeting with them. Based on their feedback, it sounds like we would have benefitted in giving our participants more of a choice and welcoming their initiative when it came to the number of intersections that we completed with them.
Conclusion
We finished data collection with ten participants with dementia or MCI and would like to thank our participants who provided us with invaluable insights on their experiences navigating their neighbourhoods and the built environment . We hope our work leads to making a positive change within municipalities around Greater Vancouver and beyond for people with disabilities.
Learn more about the SWAN project here: https://www.sfu.ca/swan-project.html